New "Sport Series" for Their Slick Line of iPhone Cases
MeeMojo has added colors to their already successful Slick line ofiPhone 4 and iPhone 4S cases. Customers can now chose from Arctic, Amber, Crimson, Cobalt or Emerald colors to complement the already successful Bright Natural, Gunmetal or Black Onyx cases. The cases are compatible with either the iPhone 4 or the iPhone4s.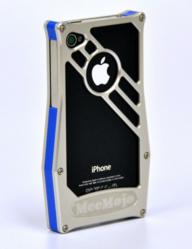 "The addition of the five new colors to the Slick lineup of cases have been what customers have asked for since last year's introduction of the Edgy Sport cases," said Petar Todorovic designer and co-owner of MeeMojo.com. "MeeMojo now has a complete series of unique accessories for the Apple line of mobile devices, aluminum cases are available for the iPhone 4, iPhone 4S and iPad 2."
Each case is machined from a solid 6061-T651 billet plate aluminum alloy, hard plated to ensure the highest level of durability and now come in an even wider array of color options. Each case also contains brightly polished stainless steel fasteners, which add strength and allow for quick installation. The cases also contain an ergonomically sculpted top plate, allowing the ability for the user to quickly locate and access the home button by guiding thumb to naturally settle on to the machined oval pocket. All buttons, including the headphone jack, remain clear and unobstructed. MeeMojo's Slick case has been designed to fit on most docking stations and can be accepted in most high quality car holders and docks. These attributes are what allow the MeeMojo cases to provide unsurpassed style and protection with the attitude to outperform all other cases.
For more news on laptop accessories or iphone accessories, please visit :