Most Important Laptop Accessories to Carry
Whether you are an avid traveler, a serious gamer or just a person who wants to organize things to their best extent, there are a few laptop accessories that can pull it off. They can help owners extend the battery life while traveling from a city to another, cool off that heavy-duty gear while struggling to beat a raid boss or, add some functions that are not encountered in every-day laptops.
The Most Useful Laptop Accessories
In the following lines we will address several categories, from battery extensions to helpful USB lamps, categories which will also include a few examples on the topic. Depending on the country you are tuning in, some products may or may not be available so try to see the concept as a full, and not the product in detail.
Laptop Traveling Bags
First and foremost, you need some laptop accessories to carry your device while traveling to work or to an exquisite location. Traveling bags may come in many shapes and forms, but the most desired variants can be found as usual backpacks or shoulder-worn messenger bags. Although simple, these items can help you a lot when traveling and protect the integrity of the laptop during bumpy rides. While most models come with protective pillow-like shells, some variants may even offer power charging possibilities – of course, for a price.
Phorce is a perfect example of this category, offering the best of functionality in a wonderful wrapper. This successfully funded KickStarter project managed to spur quite an interest, by embedding large batteries into a multi-functional messenger bag, which could charge a conventional laptop and boost with almost a full day's juice.
Charging docks and spare battery
Charging docks are a way of avoiding the normal adapter while refilling the beast, and in some cases, even more. To put it briefly, a charging dock can power up a whole laptop through the USB port, and it's a great variant for those that have lost their power adaptors or, for those with malfunctioned power plugs.
Some charging docks even extend the normal functionality and come packing a wide range of external ports, which allow several other devices, like speakers, printers, mice and others to be connected to a laptop through a single wire. Of course, the connection will be made through the use of this charging dock.
Another useful laptop accessories would be a spare battery, allowing those models with a brief life to be powered even more. An extra battery would help laptop owners in a long trip and stray away those moments when a power alert disrupts your movie.
Portable Hard Drives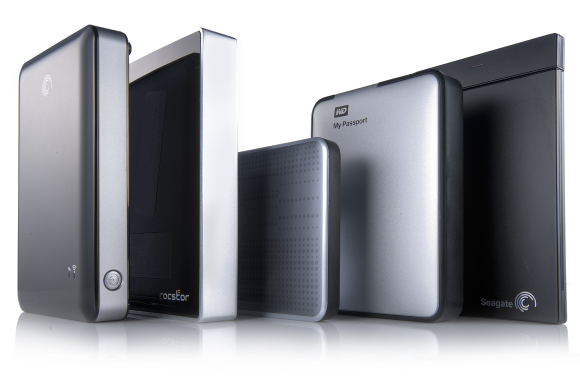 Portable Hard Drives may prove quite helpful when you wish to store that movie collection and share it with your friends, or even take it on the go. These are the best friends of high-end ultrabook owners, that tend to come with an insufficient solid-state drive which although provides performance at top notch speeds, lacks the larger capacity of conventional options.
Usually, portable HDDs link directly to the laptop using an USB 2.0 or 3.0 interface, but some models even come with Wi-Fi functionality which allows users to set the accessory in a farther corner of their room and enjoy a secondary storage option, with no strings attached. Even more, wireless hard drives can become your best friend on a long road-trip, being able to store huge quantities of information.
USB Flash Drives
Almost thirteen years after the concept of a USB flash drive (stick) has been introduced in technology, evolution has said its word and we found ourselves in an era where these tiny, flash-based devices can store even 1TB of memory (the latest introduction this year at CES).
USB Flash drives are ideal for someone looking to store information of various sizes, starting with one or two GBs and ending with a totally superior order. Usually, these devices are easy to find, affordable and durable. They can offer transfer speeds good enough to stream a video right from the stick, but taking in account the heat generated by our tiny fellow, that's not quite recommended.
USB sticks are also perfect for carrying music, whether you need it for a laptop or to stream it using a modulator to your car stereo.
Internet Stick / Modem
A standard Ethernet cable or the Wi-Fi antenna may set you up for a Facebook round or two, but while on a train or when all other Internet means fail, a stick /modem is the best solution. Easy to use, Internet modems need only to be inserted in the USB port of the laptop and through the use of a small antenna and an inteligent software behind, they can bring cellular connections more powerful than on standard wireless.
The cost of one of these babies varies from carrier to carrier, but most companies choose to distribute them for free, whenever a data plan is attached. To use an Internet modem you will require a standard carrier SIM that will charge fro every megabyte downloaded, if you are going for a pre-pay experience, or offer a limited amount of traffic for a monthly pay.
Another advantage refers to speeds, where in some regions of the world and for some companies, these Internet Modems can achieve full LTE performance. Now imagine downloading with such speeds, wherever you travel.
Headphones
Music is an important part of our lives and for those cases when the room is either too crowded to hear a thing, either filled with people that may be disturbed by your tunes, headphones are the most viable solution.
Laptop headphone models can include specialized versions, which are made for portability and come in a light shape, sometimes with a shell that keeps them from mixing, or you may go for full-quality headphones, just like any other PC owner. Choose want you want, but without question, a pair of headphones is a must-have for a laptop user.
Cooling Pad
Cooling pads are amongst the most vital laptop accessories, but also as the most under-appreciated. Few understand the purpose and true benefits of such devices and I can say, from my own experience, that laptops without a cooling pad can bring a lot of troubles.
During my last 6 years as a laptop owner, the first two of I used the device without a cooling pad. Even though it was new, my laptop's cooler malfunctioned three times and caused my mainboard to suffer heat damages, which usually ended in a blue-screen rage until I changed the unit. After realizing the downsides, I bought a cooling pad which although was not one of the most expensive, it did its job accordingly. Since then, my laptop got older, and cooler.
Without a cooling pad, users can risk to permanently damage more expensive components and pay extensive costs for their repair. I'm not trying to be a salesman here, but its one of those few products that really deserve their price.
As for diversity, there are tons of options from which you can choose. They can be found in regular shop or on an online retailer, and if you wish for some ground-braking products, we've got a top ten available.
Laptop Stands
Laptop stands usually offer the same benefits of a normal cooling pad, paired with the ability of adjusting the inclination angle and the view, as well. Moreover, some products even extend this functionality by allowing users to use the laptop while laying in bed, without any kind of worries that it might fall or that it might heat too much.
Wireless Mouse and Pad
A laptop's tracking pad is not the most well-designed object and for those who've used a regular computer before, I can safely assume that you are missing the regular mouse. Well, miss no more, as through the use of a wireless mouse you can get that good-old feeling back. While wired options can be employed also here, I strongly recommend going without wires.
Wireless laptop mice come in various shapes and forms, ranging from that small-sized bugger that aims to find a place between people with smaller hands, and up to fully-state devices that can offer gaming-proof quality. Before choosing one of these, be sure to check the battery requirements and keep in mind that as more advanced a product is, more juice is required to fulfill all those functions.
After purchasing a wireless mouse, a mouse pad is also recommended while sitting on the office. Although gamers usually resort to such details, you will find joy into seeing your pointer precision escalating to upper levels.
Wide-screen Display
Last but not least, a wide monitor may be the perfect laptop accessory for some of you. Although many will contradict me, choosing mobility does not mean you just have to renounce at some basic advantages, like decent performance or, in our case, a wide viewing area.
Opting to buy a wide LED/LCD monitor can prove to be extremely beneficial, for those wishing to see a movie with their friends, from distance or for those simply requiring a bigger space to do their work. I, personally, can be accounted as one of these people, and after purchasing a 24-inch wide LED I have never looked back.