How to Replace the Samsung R518 R519 Laptop Keyboard
First of All, turn off your Samsung R518 / R519 laptop. Remove the Compatible Parts such as battery and disconnect the power adapter.

1. Turn the laptop upside down. It is recommended that it is placed on something soft so as not to scratch the lid. Remove the two screws circled in red in the image.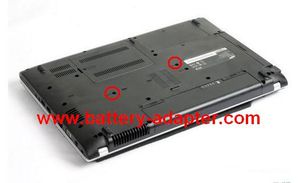 2. Turn the laptop back over and open the screen.

3. on the top of the Laptop Keyboard edge, there are two clips which hold the keyboard in place. Release the keyboard from there two places by flat screw driver or other tool..

4. Lift up the Samsung R518 / R519 Laptop Keyboard from the middle of the edge of the keyboard. Unlock the keyboard cable connector and unplug the keyboard cable.

Now you can remove the keyboard. Reverse the procedure to install the new keyboard.