Accessory-Archos 101 XS Tablet Comes With Keyboard Cover Case
The 10-inch Archos 101 XS tablet unveiled Wednesday is not only priced competitively, it comes with useful accessories : a keyboard that doubles as a stand and a cover.
At $400, the Archos 101 XS costs the same as the Asus Transformer Pad TF300, Samsung Galaxy Tab 2, and iPad 2. Archos' free included "Coverboard," however, makes the 101 XS a better value, since laptop keyboard / board /cases for the other tablets can cost over $100.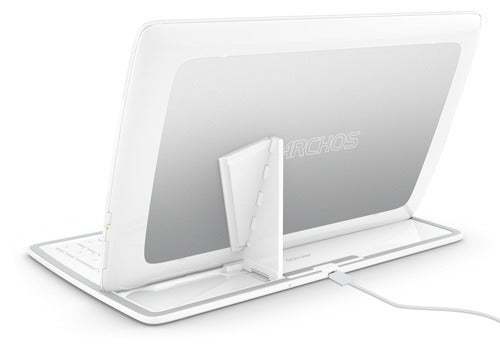 The Coverboard is 5 millimeters thick and weighs 7 ounces. By comparison, Asus' Transformer dock is more than three times as heavy (1.4 pounds or 22.4 ounces) and five times as thick (1.1 inches or 27.94 pounds). In other words, it's easier to carry the Coverboard and the 101 XS around than it is with bulkier tablet keyboards/docks. Together with the Coverboard, the 101 XS is just 0.51 inches thick, which is thinner than most tablets (including the Transformer Pad and Galaxy Tab 2) alone.
Archos' laptop keyboard covers doesn't have a touchpad, which both the Transformer dock and the Microsoft Surface Touch Cover sport. You also won't find extra battery life or more connectivity options on the Coverboard.
The 101 XS does have a lot of connectivity options on-board, including a MicrosSD reader, micro USB port, mini HDMI port, and Bluetooth.
Like other tablets in its class, the tablet comes with 1 GB of memory, 16GB of storage, and a 10-inch display with a resolution of 1280 by 800 pixels.
The 101 XS sports a dual-core TI Cortex-A9 processor, which should make it a worthy contender, performance-wise. AnandTech's benchmarks of the 101 XS show it beating out both the new iPad and the Asus Transformer.
When it launches in September, the 101 XS will run Android 4.0 (Ice Cream Sandwich), but will reportedly be upgraded to Android 4.1 (Jelly Bean) by the end of the year. Even without Jelly Bean, the Archos 101 XS looks to be a great contender in the growing budget tablet race.